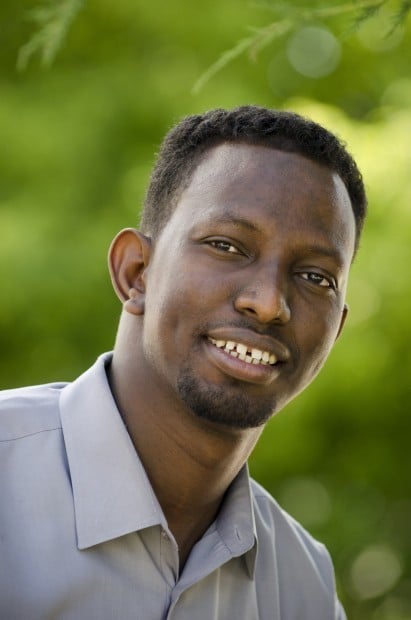 OWATONNA — The founder of the Somali American Cultural Society of Owatonna got a "wonderful" phone call earlier this month.
Ibrahim Hussein, who started the Somali American Cultural Society and works as a Somali liaison at McKinley Elementary School, was one of six people awarded the 2012 Virginia McKnight Binger Award for Human Service. Hussein found out about the award at the beginning of the month, and will receive the award on Friday.
"I was so proud," Hussein said. "I was so delighted when I got the phone call. I was kind of shocked and surprised."
The press release said that Hussein was chosen for his work empowering Somali Americans to play active community roles as neighbors, business leaders and educators.
"They said they honored me because of the time I give back to the community and to education," Hussein said.
Candidates are nominated confidentially by those who believe in their work and recognize the difference they make.
Hussein immigrated to the United States from Kenya in 2007. He started as a part-time liaison at Owatonna schools, including Wilson and Owatonna Junior High School. Two years ago, he was named a full-time liaison at McKinley.
While working with local students, he noticed a need for additional tutoring. This summer, he has spoken with several Somali students who moved to the area during the middle of school year. Hussein started the Somali American Cultural Society as a place where they can catch up. The Somali American Cultural Society of Owatonna was started with the help of a $5,000 grant from the Southeast Minnesota Initiative Fund, otherwise known as SMIF.
At first, few students were showing up, but as time went on more and more kids started using the service.
"We have grown over time," Hussein said. "We are now helping out more than 20 students, Monday through Thursday."
The other award winners are Mary Farley, Diane Kinney, Cheryl Meld, Gino Nelson and Gada Roba.
In announcing the winners, Shannon Eisentrager of The McKnight Foundation wrote," "With so many social service agencies and programs digging deep to get by these days, we're especially pleased to recognize the contributions of people like this year's awardees, who have demonstrated an exceptional personal commitment to helping others in their communities with little thought for public recognition or monetary reward."
Reach reporter Derek Sullivan at 444-2372, or follow him on Twitter @OPPSullivan